BOOK: This Call May Be Recorded Too - By Joel Frieders & Jose Garibaldi
---
Sale price
$ 14.99
Regular price
$ 16.99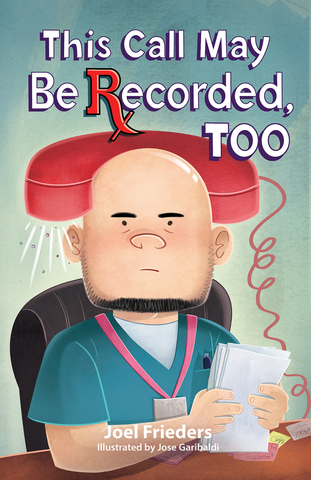 The SEQUEL to
This Call May Be Recorded
HAS ARRIVED AND is titled
This Call May Be Recorded TOO!
This Call May Be Recorded Too is one (limber) man's (SECOND) collection of conversations he's had as a suppository salesman turned faux-gymnast. The (intestinally regular) Joel Frieders recounts the hormonal humans, the menopausal marsupials, the shattered valium dreams, and the udderly spastic confrontations he finds himself a part of as the manager of a family-owned compounding pharmacy. Instead of resorting to violence or erotic dance, Joel turns on the patience, sarcasm, and self-deprecation to get him to 5pm, where he can then return home and get the same treatment from his three children.
This Call May Be Recorded Too is hysterically funny and good for what ails you. CAUTION: Not to be taken rectally.
WARNING: HUMOR
About the Author: Joel Frieders is husband to Julie, father to Dylan, Leah, & Mason, brother to Lydia, son to Larry & Pat, a recovering musician, former bartender/waiter, current beekeeper, founder of music blog SYFFAL.com, alderman in Yorkville, IL, appreciator of run on sentences, and one hell of a nude art model (if you're into horror and lumpy men). 
Illustrated by Jose Garibaldi 
WANT TO BUY THE FIRST ONE?!?! YOU ARE SO SENSUAL!! CLICK HERE!
Author Contact:
Joel Frieders
joelfrieders@gmail.com
Facebook: https://www.facebook.com/joelfrieders
Instagram: https://www.instagram.com/joelfrieders/
Twitter: https://twitter.com/joelfrieders
The Compounder Pharmacy
340 Marshall Ave #100
Aurora, IL 60506
http://www.thecompounder.com
O - 630-859-0333    ::    C - 630-992-7516
If you are interested in being in the next book, you already are!
--------------------------------------------

Joel Frieders has self published four books, as of 1/5/2018, and is excited to offer the following books for sale:
This Call May Be Recorded
The first in a never-ending series of phone call transcripts and blurbs about the life of a customer service representative at a compounding pharmacy. What's a compounding pharmacy? It's a restaurant for drugs. READ THE BOOK.
https://shop.thecompounder.com/products/this-call-may-be-recorded
This Call May Be Recorded Too
The second in a never-ending series of phone call transcripts and blurbs about the life of a customer service representative at a compounding pharmacy. This second book contains the secret of life, so... READ THIS BOOK TOO!
https://shop.thecompounder.com/products/this-call-may-be-recorded-too
Mind Your Christmas is the first children's book AND first non-comedy book from the duo (Joel Frieders and Jose Garibaldi) that wrote This Call May Be Recorded and This Call May Be Recorded Too. This book is awesome and I want you to buy it.
https://shop.thecompounder.com/products/mind-your-christmas
A photography book of bee photos that Joel snapped while playing with his #beesbro. This makes a perfect device with which to kill wasps, because wasps deserve death. 
https://shop.thecompounder.com/products/beesbro
Related Products
---