Essential Oils, Ultrasonic Oil Diffuser :: Faux Wooden
---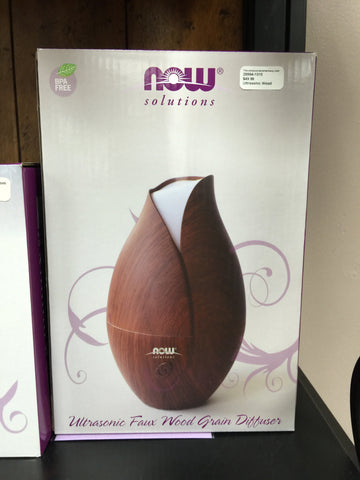 Before we provide you with NOW's schpeal about their diffuser, let The Compounder tell you THIS THING IS AWESOME.
We've swapped between our small selection of oil blends for the past few days, and not only does this thing pump out the swell smells, but it shuts off when it's empty! When we can't smell the swell smells, we start over!
This thing is awesome.
Advanced Ultrasonic Atomization Technology

Stylish Design With LED Color Changing Night Light

8½" H x 5" W

No Heat Involved/No Risk of Burns

Just Add Tap Water and Essential Oils

Runs Cool Steam Up To 8 Hours

Automatically Shuts Off

2-in-1 Mini Air Humidifier Which Can Also Be Used For Aromatherapy

Revolutionary Way To Create Soothing and Therapeutic Atmosphere

Great For Home or Office

BPA-Free

Extremely Quiet

Easy to Clean
NOW® Solutions Wooden Ultrasonic Oil Diffuser
unites scientific innovation with contemporary design to create an essential oil diffuser that's the perfect complement to your home or office. This attractive, flower-shaped diffuser is BPA-free and utilizes high-frequency ultrasonic electrical vibrations to create an ultra-fine aromatherapy mist. This diffusion method doesn't utilize heat, which maintains essential oil integrity and holistic properties. NOW® Solutions Wooden Ultrasonic Oil Diffuser is perfect for daily use and is a healthy alternative to synthetic room fresheners and scented candles.
This isn't FAUX, YOU'RE FAUX!
Sorry, I'm defensive about my faux woodz. 
Related Products
---