Essential Oils, Spearmint - 1 fl oz.
---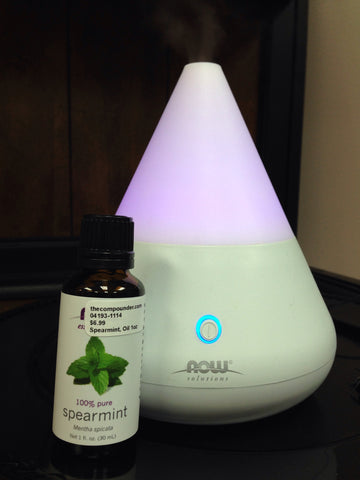 NOTE FROM THE COMPOUNDER: Spearmint oil in a diffuser will make a warm house instantly cooler. This stuff is the cold side of the pillow. 
Ingredients:  Pure Spearmint Oil
Suggested Use: For aromatherapy use. For all other uses, carefully dilute with a carrier oil such as jojoba, grapeseed, olive, or almond oil prior to use. Please consult an essential oil book or other professional reference source for suggested dilution ratios.
Aroma: Refreshing and minty (NO! REALLY!)
Benefits:  Cooling, invigorating, stimulating
PROS: You smell that? That's the smell of success.
CONS: THIS MIGHT SMELL LIKE KODIAK CHEWING TOBACCO, JUST SAYIN! 
Related Products
---