Essential Oils, Nature's Shield - 1 fl. oz.
---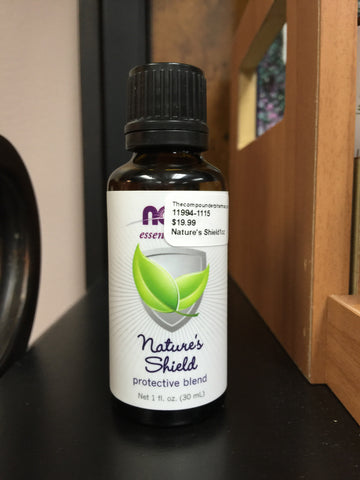 The Historical Story of the Four Thieves
The thieves were actually spice traders and merchants who imported spices, including cinnamon and clove from India. When the Black Plague hit, all international shipping and trade was closed down. Unable to do business, these spice traders quickly ran out of money and had to find a way to support themselves.
Since people in the communities were afraid to touch the dead bodies, they decided to loot the homes and bodies of the plague victims. They believed they wouldn't get sick if they rubbed vinegar, oils, and certain spices all over their bodies.
The thieves were able to set up a very lucrative pawn business, until the King found out. When the King heard about the story of the thieves he wanted to know their secret recipe. Four of the thieves were caught and brought before the King. He gave them a choice to either share their secret formula of "immunity" or be burned at the stake. The four thieves wisely decided to share their secret formula with the King. The King immediately posted the thieves' secret formula all over the town.
Original Recipe: The Thieves® Oil Recipe was created by Gary Young in the early 1990s. According to him, there are at least 15 versions of the "Story of Thieves" or the story of "The Four Thieves". Each story contains a different list of oils. Choosing certain oils due to their chemical structure and immune supporting properties, Mr. Young created his own proprietary blend known as Young Living's Thieves® Oil Blend., which contains: Clove bud oil, Lemon peel oil, Cinnamon bark oil, Eucalyptus leaf oil, and Rosemary leaf oil.
Uses: Diffusing Thieves Oil in the home helps purify the air, eliminate odors, add a pleasant aroma, and reportedly support the healthy function of lungs and sinuses. Thieves® essential oil is thought to stimulate our immune systems, especially during cold and flu season. It can be used for cleaning and disinfecting, and for maintaining family health naturally.
Many people use this oil blend on all family members including babies and children. Of course always dilute with carrier oil (jojoba) before using it on children and babies.
Applying this oil to the bottom of the feet is reported to be highly effective – and safe.
Availability: There are several commercial blends of essential oils that duplicate Gary Young's formula. While they may not be perfect copies of his formula, they perform the same. You can also make your own DIY Thieves Oil Recipes. We've found it far more convenient to purchase a commercial product, which actually saves money and time. The Compounder sources a commercial product, Nature's Shield, offered by NOW Foods of Bloomingdale, IL.
You might be able to find a more expensive version of this oil, but you won't find one better.
--------------------------
NOTE FROM THE COMPOUNDER: This smells like you're getting ready to kick something in the teeth. It's woodsy and invigorating, but also strangely relaxing to be so woodsy and invigorated. Make sense? Of course it does. 
Ingredients:  Clove Bud Oil (Syzygium aromaticum), Organic Lemon Oil (Citrus limon), Cinnamon Bark Oil (Cinnamomum zeylanicum), Eucalyptus Oil (Eucalyptus radiata), Organic Rosemary Oil (Rosmarinus officinalis).
Suggested Use:  Add to a diffuser to purify and cleanse rooms, or create a room mister by adding 30 drops to 1 oz. of water in a spray bottle. Great blend to promote a healthy environment.
Aroma:  Sweet, invigorating and camphoraceous.
Benefits:  Uplifting and energizing aroma ideal for freshening and cleansing.
Extraction Method: Lemon Oil - Cold Pressed; Clove, Cinnamon, Eucalyptus & Rosemary Oils - Steam Distilled

Purity Tested/Quality Assured

Natural essential oils are highly concentrated and should be used with care.
PROS: You're healthy, wealthy, and wise.
CONS: Your crippling guilt has no essential oil associated with it, so enjoy that psychologically induced stomach ache there Bruce. 
Related Products
---