Vitamin D3 Cream 4oz
---
Sale price
$ 9.99
Regular price
$ 11.99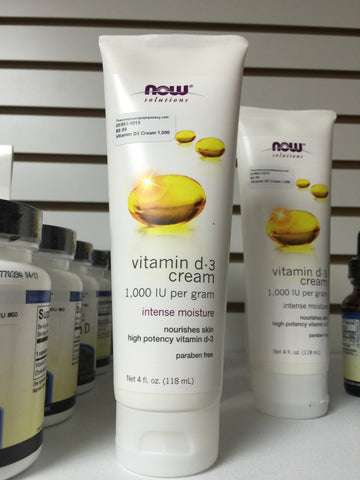 Vitamin D safely reduces inflammation, which is being recognized as one of the underlying causes for many chronic health conditions. Multiple sclerosis, irritable bowel disease, psoriasis, diabetes, coronary artery disease, arthritis, and many others are linked to widespread systemic (affecting the body as a whole) inflammation. Clearly, additional vitamin D can offer relief to people who suffer from one or more of those chronic maladies. And a study from Denmark reports that even depression is linked to inflammation. People often report improvements when their vitamin D levels increase - whether by additional sunshine exposure or using additional vitamin D3 supplements. Vitamin D3 is absorbed from the digestive system and also when applied to the skin.
Vitamin D is the besssssssssssssst! We have been making our own cream for years, but we found one we like without parabens and from a company we love doing business with. Check out NOW's Vitamin D-3 Cream!
1,000 IU per gram

Intense Moisture

Nourishes Skin

High Potency Vitamin D-3

Paraben Free
Condition: Dry skin in need of intense daily moisture to renew and maintain a healthy water/oil balance as well as healthy epidermal cells.

Solution: Vitamin D-3 Cream provides comprehensive moisture renewal through a carefully balanced ratio of beneficial nutrients. A single gram of Vitamin D-3 Cream, equal to a 1/4 teaspoon, includes 1000 IU of Vitamin D-3 (the equivalent of one typical softgel) to help soothe dry, cracked skin, 500 IU of Vitamin A to help rejuvenate your skin through its antioxidant benefits, and 50 IU of Vitamin E to help gently and naturally renew damaged skin. You get all this in just one application which can help return your skin to its healthy, radiant best.

Suggested Usage: To keep skin well-nourished, healthy and moisturized, apply 1/4 teaspoon to the skin daily.
Ingredients: De-ionized Water, Aloe Vera (Aloe barbadensis) Leaf Gel*, Glyceryl Stearate SE, Shea Butter, d-alpha Tocopherol (Vitamin E), Cetearyl Alcohol/Cetearyl Glucoside, Caprylic/Capric Triglyceride, Aquaxyl™, Vegetable Glycerine, Stearyl Alcohol, Cetearyl Alcohol, Cetyl Alcohol, Cetyl Palmitate, Phospholipids (from soy lecithin), Glucose/Glucose Oxidase/Lactoperoxidase (natural preservative), Betaine Anhydrous (Trimethylglycine) (TMG), Jojoba Oil, Meadowfoam Seed Oil, Cholecalciferol (Vitamin D-3), Sodium Hyaluronate (Hyaluronic Acid), Sodium Ascorbyl Phosphate (Vitamin C), Retinyl Palmitate (Vitamin A), d-Panthenol, Squalane, Satsuma Orange Aroma, Hydroxylated Soy Lecithin, Sclerotium Gum, Potassium Sorbate and Citric Acid. *Certified Organic
Gluten-Free

Aquaxyl® is a registered trademark of Seppic SA.

NOW® Solutions products are not tested on animals.
Related Products
---