Vitamin B-6 100mg - #250 Caps
---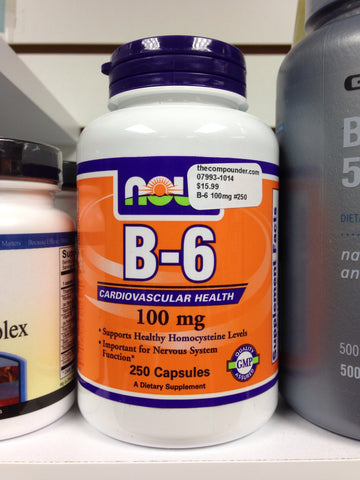 Vitamin B-6, also called Pyridoxine, is one of the members of the B-vitamin family and is found in fresh vegetables. Clinical studies have shown that B-6 plays an important role in regulating homocysteine levels in the body. Homocysteine is produced as a by-product of the demethylation of methionine and can be toxic in elevated amounts.

What is B-6 used for? Adrenal support, metabolism, immune function and others. But it is also used to treat the conditions of nerve compression injuries, PMS, depression and arthritis.

As a member of the Frieders family, I can tell you that the days that I don't take my B-6 I am just a liiiiitle more susceptible to speaking without thinking, or reacting without thinking. Basically, I find that it helps my mood quite noticeably. 
Serving Size:
1 Capsule
Servings Per Container:
250
Amount Per Serving

% Daily Value*

* Percent Daily Values are based on 2,000 calorie diet.
† Daily Value not established.
Vitamin B-6 (as Pyridoxine Hydrochloride)  
100 mg  
5000%  
Other Ingredients: Rice Flour and Gelatin (capsule).
Contains no: sugar, salt, yeast, wheat, gluten, corn, soy, milk, egg, shellfish or preservatives.
WITHOUT B6, I WOULD HAVE BEEN KILLED A LONG TIME AGO. 
Related Products
---