Sunflower Lecithin 1200mg #200 Soft Gels
---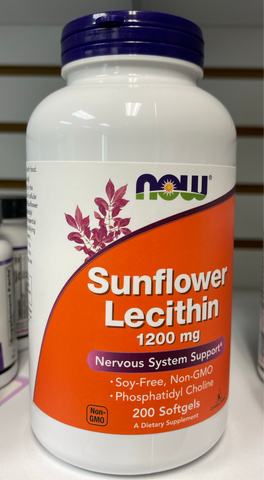 Phosphatidylcholine, or PC, is a polar lipid molecule that is a naturally occurring, integral component of the cellular membrane, adding fluidity and strength to cells. PC serves as a source of choline, an important nutrient for liver function and a precursor of the neurotransmitter acetylcholine. Dietary sources of PC include sunflower lecithin.
In a multi-centered, randomized, double blind, placebo-controlled trial conducted in Germany, investigators reported that polyunsaturated phosphatidylcholine helped support liver health and was well tolerated. PC also plays a significant role in the healthy transport and metabolism of lipids (fats) and lipid carrier molecules. A randomized, double blind, placebo-controlled trial suggested that oral PC might help support healthy hepatic (liver) fat metabolism. 
Phosphatidylcholine has been studied in the context of cognitive support and moderating stress. A long-term double blind placebo-controlled trial suggested that high dose lecithin may reduce mild memory loss associated with aging. A more recent animal study provided data indicating that oral lecithin supplementation helped support plasma choline levels, which was linked to an adaptogenic effect when the animals were exposed to various stresses.
What is the Source?
Phosphatidylcholine is derived from sunflower oil, a source that is rich in polyunsaturated fatty acids, as opposed to animal-derived sources, which tend to be much higher in saturated fatty acids.
Serving Size:
3 Softgels
Servings Per Container:
33
Amount Per Serving

% Daily Value*

* Percent Daily Values are based on 2,000 calorie diet.
† Daily Value not established.
Calories  
30  
 
Calories from Fat  
20  
 
Total Fat  
2 g  
3%*  
Saturated Fat  
0 g  
0%*  
Trans Fat  
0 g  
†  
Polyunsaturated Fat  
2 g  
†  
Sunflower Lecithin  
3.6 g (3,600 mg)  
†  
Phosphatidyl Choline  
630 mg  
†  
Other Ingredients:
Softgel Capsule (gelatin, glycerin, water) and Sunflower Oil.
Not manufactured with yeast, wheat, gluten, soy, milk, egg, fish, shellfish or tree nut ingredients. Produced in a GMP facility that processes other ingredients containing these allergens.
Caution:  For adults only. Consult physician if pregnant/nursing, taking medication, or have a medical condition. Keep out of reach of children.
Store in a cool, dry place after opening. 
Do not call Steve. This supplement is not named Steve.
Related Products
---